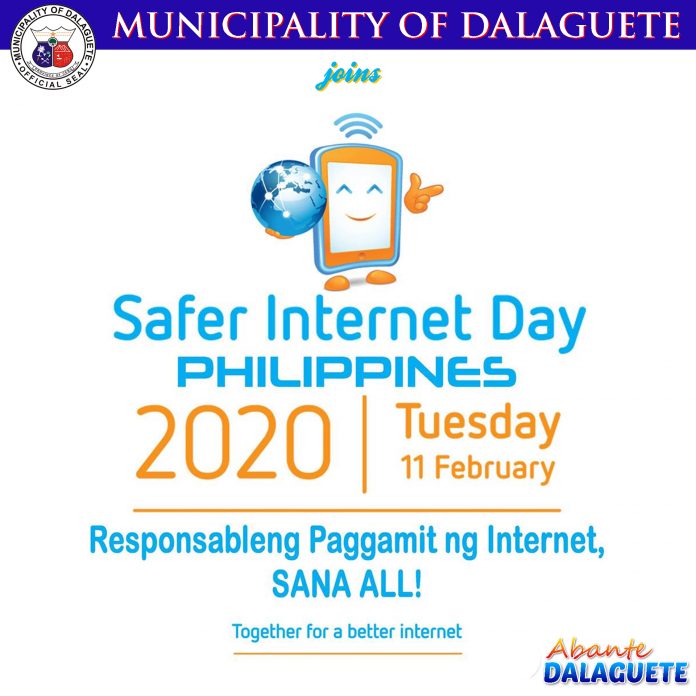 𝐌𝐮𝐧𝐢𝐜𝐢𝐩𝐚𝐥𝐢𝐭𝐲 𝐨𝐟 𝐃𝐚𝐥𝐚𝐠𝐮𝐞𝐭𝐞 supports the observance of #SIDPhilippines2020
𝗠𝘂𝗻𝗶𝗰𝗶𝗽𝗮𝗹𝗶𝘁𝘆 𝗼𝗳 𝗗𝗮𝗹𝗮𝗴𝘂𝗲𝘁𝗲 supports the observance of #SIDPhilippines2020
Safer Internet Day is celebrated globally every February to promote the safe and positive use of digital technology for children and young people.
The Presidential Proclamation No. 417 declares every second Tuesday of February of every year as "Safer Internet Day for Children Philippines" which is celebrated as a call for better and safer internet use for everyone, and to raise awareness on online issues faced by children.
This year's national theme is "𝗥𝗲𝘀𝗽𝗼𝗻𝘀𝗮𝗯𝗹𝗲𝗻𝗴 𝗣𝗮𝗴𝗴𝗮𝗺𝗶𝘁 𝗻𝗴 𝗜𝗻𝘁𝗲𝗿𝗻𝗲𝘁, 𝗦𝗔𝗡𝗔 𝗔𝗟𝗟!" which is in line with the international campaign slogan, "𝑻𝒐𝒈𝒆𝒕𝒉𝒆𝒓 𝒇𝒐𝒓 𝒂 𝑩𝒆𝒕𝒕𝒆𝒓 𝑰𝒏𝒕𝒆𝒓𝒏𝒆𝒕".